In 2002, a foam clog made its debut at the Fort Lauderdale Boat Show in Florida. Only 200 pairs were initially manufactured, and each pair quickly sold out. This marked the beginning of a momentous cultural transformation within the global footwear industry, all courtesy of the brand, Crocs.
Crocs has taken the world by storm one clog at a time. These beloved clogs have stealthily infiltrated the collections of many, gradually establishing themselves as a fashion staple.
We have compiled the ultimate styling guide to Crocs featuring 5 fire fits to pair your Crocs with. From Y2K fashion to chillin' by the beach, we have got you covered!
Before we dive into the world of Crocs fits, you cannot deny the ultimate accessory for your Crocs: Jibbitz. Jibbitz brings the party to your fit – they are colorful charms that are all about expressing YOU.
Want to flaunt your love for cats, turtles, or cotton candy? Jibbitz has got you covered! They're like the ultimate conversation starters for your feet. Pop them in and watch heads turn as your shoes become the life of the party.
And the best part? They're as easy to switch out as your mood. So, one day you can be all about rainbows and unicorns, and the next, you're rocking your favorite sports team. Jibbitz are like a fashion playground for your Crocs – it's all about having fun with your footwear!
Y2K
Crocs has become increasingly synonymous with the electrifying world of Y2K fashion. Not just any ole' Crocs, platform Crocs are here to stay! Pair your Crocs Classic Mega Crush Clog with your favorite Y2K fit. Embrace the chunky and funky vibes. These attention-grabbing shoes are all about making a bold statement, both in stature and style.
For the perfect Y2k fit, we recommend pairing your platform Crocs with your favorite pair of cargo pants and a strappy cropped top. Ladies, elevate your style with the Nike Sportswear Oversized Cargo Track Pants. On top, jazz up your outfit with Nike's Sportswear Everyday Modern Asymmetrical Crop Tank with its asymmetrical design and spaghetti strap details for the ultimate Y2K look.  In no time, you'll be all set to hit the town.
Gym Ready
While we do not recommend for you to actually wear it at the gym, Crocs are convenient to wear to and from the gym. Crocs are easy to clean, lightweight to pack and most importantly, very comfortable.
Complete your must-have gym accessories with the definitive Crocs Classic Clog. Pair these comfy clogs with the iconic Jordan Dri-FIT Sport Diamond Shorts for men or the best-loved Calvin Klein Hi Support Bra and Bike Shorts for women. Unleash your inner beast at the gym with these fits!
Lounge Ready

Crocs with socks are the ultimate epitome of comfort! Get lounge ready with our favorite cozy fits, complete with socks to keep your feet nice and snug. We love the Crocs Classic Varsity Clog in a light tan color that is incredibly light and fun to wear.
We love completing our lounge ready look with the ultimate off-duty essential, the men's Outline Shorts from The North Face. For the ladies, don the Nike Sportswear Essential Mid-Rise pants for that all over comfort and lounge day away. Elevate your style without compromising on comfort and of course, finish your look with a pair of Crocs!
Coordinated Sets
You cannot go wrong with color blocking! Otherwise known as a co-ord set, these two-piece color-coordinated sets are easy to pair with your favorite Crocs to look effortlessly chic.
If you are looking for fun and funky tie dye prints, try matching both the Nike Sportswear Sleeveless Jersey Wave Dye Top and Shorts. If you are looking for something more understated, try the Nike Sportswear Essentials Ribbed Cropped Tank and Cargo Pants that comes in green.
Since co-ord sets can come off loud and colourful, we recommend a more muted pair to complete your outfit. Try the Crocs Hiker Xscape Sandals – drawing inspiration from the wilderness yet designed to make a bold statement, the Hiker Xscape introduces a youthful and energetic twist to the Hiker collection.
Beach Ready
It is an undisputed fact that Crocs are the perfect beachside companion. Crocs are like amphibious buddies for your feet. They love to get wet, and they dry in a jiffy. Perfect for splashing in the waves, and they won't mind a little salty ocean dip. Furthermore, cleaning them is a piece of cake!
Apart from the classic clog, we suggest the Crocs Echo Slide  so that it's easy to shake off when sand gets between your toes. Don't forget your swimsuit! Go from lap practice to a beach party with the Nike 5″ Swim Volley Shorts and stay stylish while at it. If you are simply lounging by a beach cabana, put on the trendsetting New Era MLB Tank Top and shorts for fun in the sun.
Keep your eyes peeled on our blog for the latest updates and news.
Next Article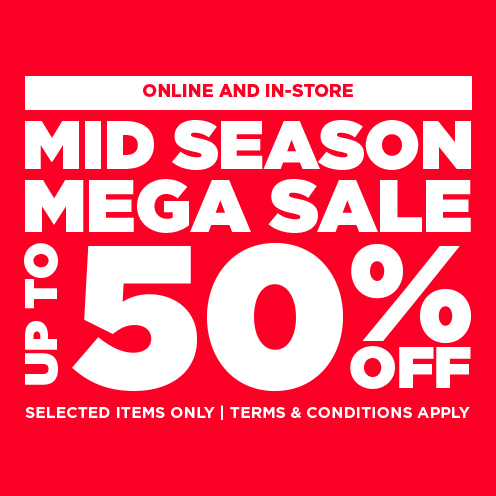 LIFESTYLE | November 8, 2018
Mid Season Mega Sale: Up to 50% off Nike, New Balance, adidas and more!