Welcome to the electrifying world of Y2K fashion, where nostalgia meets futuristic glam in the most captivating way. This iconic era, born at the turn of the millennium, continues to captivate fashion enthusiasts with its audacious charm and unapologetic boldness. So slip into those cargo pants, lace up those platform shoes, and embrace the metallic shine. Get ready to dance to the rhythm of the early 2000s!
Be transported back to the iconic trends of the early 2000s and shop the hottest sneakers, clothing, and accessories at JD Sports Singapore that can fit you in the bold, daring, and unapologetic styles of the Y2K.
Y2K Styles: Cargo Pants
Go baggy or go home! Cargo pants are the ultimate epitome of laid-back coolness. Not only are they stylish, these versatile bottoms effortlessly blend functionality with style. They offer a practical solution for carrying essentials on the go with their roomy pockets. From your deepest, darkest secrets to your everyday wares, these pockets are great for carrying everything your need around. The Y2K spirit is all about edginess and rebellion and cargo pants can take your outfit to whole new heights. Pair it with a crop top, tube top, or an oversized graphic tee for ultimate comfort for the ultimate Y2K vibe. It's all about embracing the boldness, the fun, and the fearless fashion choices that defined the era. 
For the ladies, get styled with the Nike Sportswear Oversized Cargo Track Pants – a neutral khaki-colored cargo pant that is durable and lightweight. Adjust the fit with its ties at the legs and viola, you'll be ready to hit the streets. These sleek cargos are the perfect staple piece to be styled with any Y2K fit, complete with its signature swoosh branding for an added sense of authenticity and a subtle hint of color. 
Y2K Styles: Cropped Tops
You can't mention Y2K fashion without a cropped top. The Y2K era brought a revolution to the cropped top game, taking it to daring new heights. Picture baby tees with quirky slogans, bedazzled halter tops, and loud graphic slogans. These tops are all about having fun and living life loud. The Y2K trend invites you to unleash your inner fashionista and embrace the power of the cropped top. It's time to make a statement! Let the world know that you're here to slay, one crop at a time!
The adidas Originals Cropped Lace Trim T-Shirt is the perfect blend of femininity and collegiate aesthetics with its unique lace trim. Here's an insider secret: the lace trim is actually made up of tiny Trefoils for you to rep' your adidas pride. Tie-dye never dies! We also love the Nike Sportswear Sleeveless Jersey Wave Dye Top for hot sunny days out! Make waves with this loosely cropped muscle tee that comes in two different colorways. This one-of-a-kind vibrant look is easily matched with a pair of cargo pants or a mini skirt for that Y2K look that slays. 
Y2K Styles: Mini Skirts
Dive into the playful and flirty world of mini skirts. Mini skirts are the essence of Y2K where smaller is better! We especially love the Nike Air High-Waisted Woven Miniskirt. Its lightweight and tall elastic band makes it a Y2K wardrobe staple. Grab your favorite mini skirt, add some chunky platform sandals or funky sneakers, and get ready to turn heads wherever you go. The Y2K trend invites you to unleash your inner fashionista and embrace the mini skirt revolution
Y2K Styles: Chunky Platform Shoes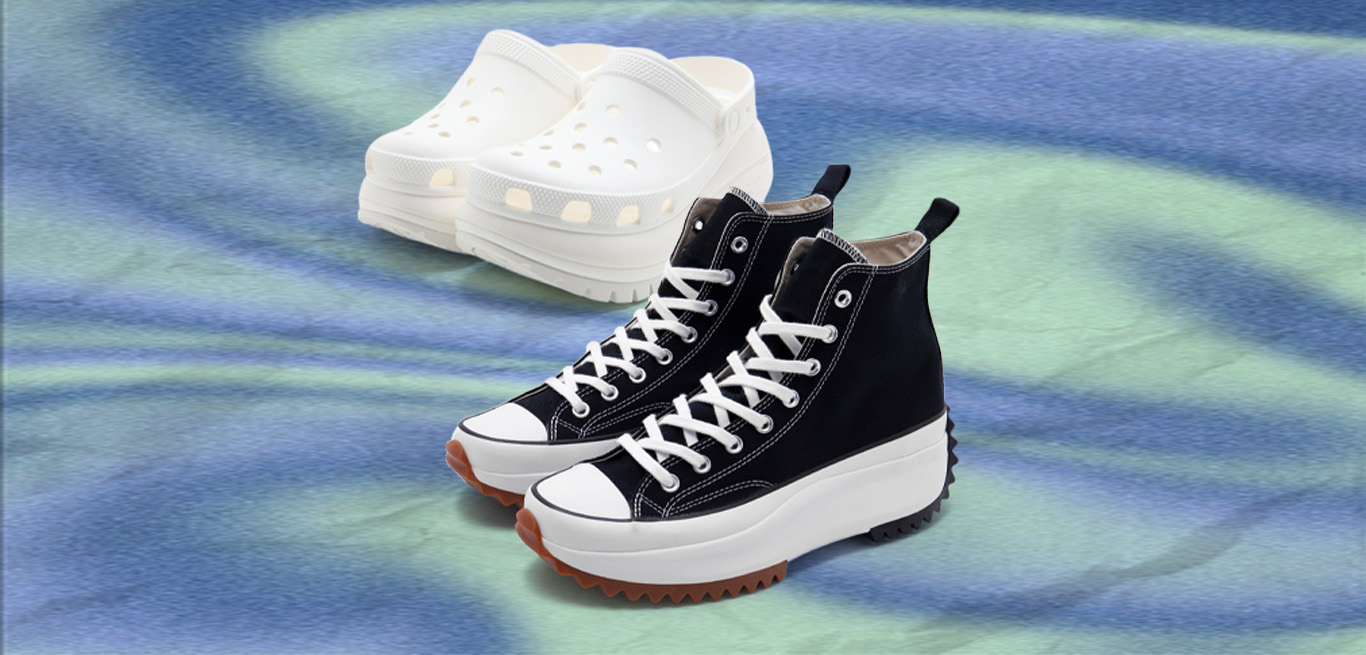 Get chunky and funky! These statement-making kicks are all about standing tall, literally and metaphorically. In the early 2000s, platform shoes were a must-have for fashion rebels who wanted to make a bold entrance wherever they went. With their chunky soles and towering platforms, these shoes added a dose of edgy flair to any outfit.
The Converse Run Star Hike sneakers have been making waves on the internet and the streets. These chunky platform sneakers are a remixed version of the well-loved and classic Chuck Taylor All Star 70 that takes you to whole new heights. Throw a Y2K fit together with these chunky platform shoes, a cute mini skirt, and a breezy cropped top, and get ready to storm the world one step at a time. 
How can we forget the ever-iconic Crocs Classic Mega Crush Clog. These Crocs take your outfit to a whole new level with their chunky and funky heel. Best of all, personalize your Crocs by adorning them with your favorite jibbitz charms. These Mega Crush Clogs come in a variety of different colors but we think the white colorway is the most versatile. We love our white footwear – check out our article on the best white sneakers for everyday wear. 
Y2K Styles: Shoulder Bags
Last but not least, complete your outfit with the ultimate accessory: a shoulder bag. The Y2K trend embraced the idea of being on the go and effortlessly stylish, and shoulder bags was the embodiment of that spirit. Whether you rocked a small and sleek shoulder bag or opted for a larger one to fit all your essentials, these bags were the perfect complement to your Y2K ensemble.
Simple might sometimes be better with the understated Jordan Jacquard Handbag. This all-black shoulder bag fits all the necessities and pairs with any outfit because of its color. For a pop of color and fun, get your hands on the Puma Prime Classics Mini Hobo Bag. This blush pink colorway is cute, girly and fun! Best of all, this comes with a short carry handle and an adjustable detachable shoulder strap so it is easy to grab and go.
Put your Y2K fit together right here at JD Sports Singapore. Start shopping now!
Don't forget to download the JD Sports Singapore App from Apple App Store or Google Play Store. Stay updated on the latest hype drops and more by following us on Instagram at @jdsportssg
Hurry and shop now at JD Sports Singapore with free delivery sitewide!
Next Article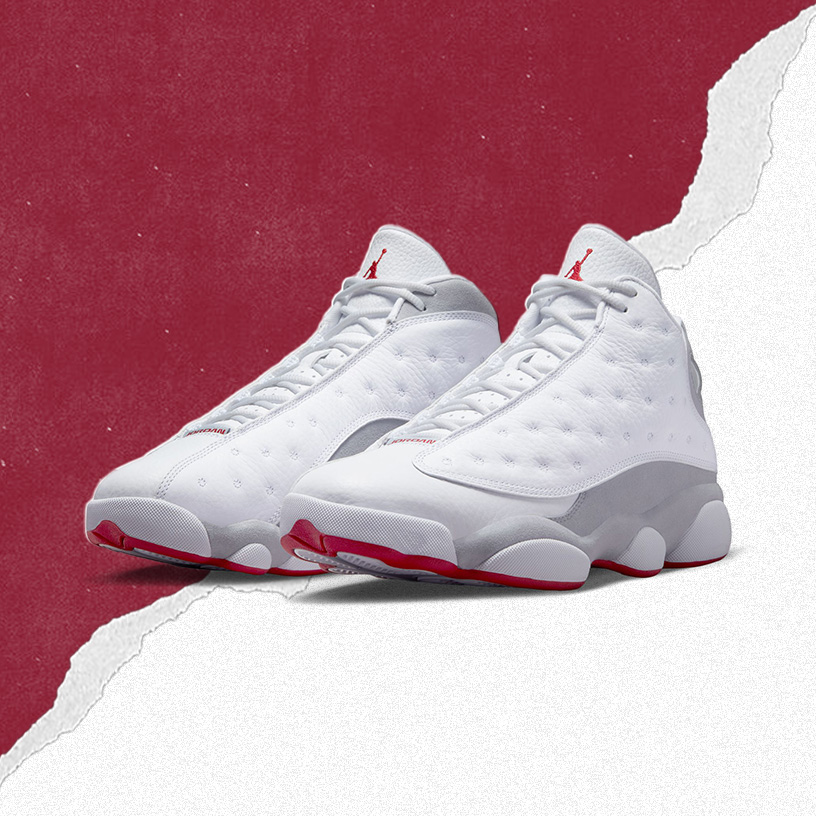 SNEAKERS | November 8, 2018
Launching: Air Jordan 13 'Wolf Grey'